Stable family resolution pulled back
Colorado Springs Gazette / June 20, 2004
by Dennis Huspeni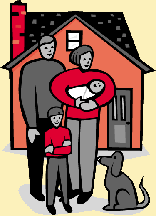 This week's meeting of the Colorado Springs School District 11 Board just got a lot less controversial.
Board member Willie Breazell had placed a resolution supporting "stable, heterosexual, two-parent families" on the board's Wednesday agenda. He yanked the item late Friday, however, in the face of complaints and controversy.
"I think it was going to distract from the things we want to accomplish," Breazell said Saturday. "There was too much focus on the negative rather than the positive."
Breazell said his intention was to "support the family structure," adding he believes education and family go hand-in-hand.
Students who come from poor, or single-parent, households might not be as ready to learn, he said.
"This turned into a gorilla," Breazell said of the controversy. "Perhaps it should have been a monkey."
Fellow board member Karen Teja, who spoke against the resolution when Breazell brought it up at Wednesday's meeting, said she wondered what it had to do with the board's mission.
"State statutes tell us our role is to focus on curriculum and focus on the budget," Teja said Saturday. "That also trickles down to us as policy-makers."
Teja said she heard from angry residents in her district and not just from gay or lesbian parents.
"Some were very offended," she said. "My neighbor said: 'If my husband dies, is the school district trying to tell me I have to go and get a new husband?'"
She mentioned grandparents who are raising grandchildren as being offended.
"This woke up so many people — it's amazing," Teja said.
The issue of whether government should weigh in on matters such as the definition of marriage has polarized the nation in recent months, especially since samesex marriages became legal in Massachusetts.
The Colorado Springs City Council found out how divisive the issue can be when it grappled with extending city employee health benefits to domestic partners. That measure was defeated by a narrow vote in February.
In the case of Breazell's proposal, "People are not accepting of that kind of resolution," said Bryan Acker, interim director of the Pikes Peak Gay and Lesbian Community Center. "The majority of at-risk families rightly had a problem with that."
Acker said the school board should concentrate on dealing better with families the way they are rather than trying to change that family structure.
He said Breazell was "pushing a personal agenda using his school district seat."
Breazell, who got the approval of two other board members to get the resolution on Wednesday's school board agenda, said one of those members was out of town Friday, but the other agreed with his decision.
Board members hope to get a bond issue before the public to build two schools and improve the existing ones, Breazell said. The family resolution might have overshadowed those efforts, he said.
"There are just too many issues before us now that are more important than that."