Biblical examples of family diversity are astounding
The Advocate / May 17, 2005
Commentary by Reverend Jay Emerson Johnson, Ph.D.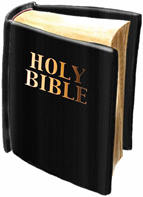 May 17 marks the first anniversary of Massachusetts offering equal marriage benefits to same-sex couples. For those of us who believe in those rights, and the more than 5,000 same-sex couples that have been married, it is a moment for reflection and celebration. Our joy, however, is mixed with a sense of loss, because 14 states have since passed measures banning legal recognition of same-sex relationships.

Religious opponents of equal marriage frequently use the Bible for justification of their stance. In March, the Southern Baptist Convention released the Nashville Declaration on Same-Sex Marriage, in which it based its opposition to equality on "the biblical teaching that God designed marriage as a lifetime union of one man and one woman." For biblical literalists, they don't know much about the Bible. Biblical families and American families share the word "family" in common, but not much more. But if we look beyond the radically different structure of Biblical marriage, modern families can still find timeless values in the scriptures to guide them.

First, it's important to recognize that the most common marriage pattern in the Bible is polygamy: not a union of one man and one woman, but a union of one man and as many women as he could afford to keep (see Solomon, and his 700 wives and 300 concubines). In the Christian scriptures, the two primary figures, Jesus and the Apostle Paul, are both unmarried and childless. Based on the model of Jesus and his disciples, the early church developed a radical model of family that broke with ancient kinship patterns in favor of a religious ­ and nonbiological ­ church family.

"Biblical family values" present just as many problems as "biblical families." Abraham's use of his slave, Hagar, to sire a child, and his subsequent banishment of her and the child to the wilderness (Genesis 21:14) would be considered unspeakably callous by today's standards. Yet according to the family values of his day, Abraham was acting completely within his rights. When Jacob steals his brother Esau's birthright, the Bible describes it not simply as an act of brotherly betrayal but as a necessary part of God's will for God's people (Genesis 27). Even more severe is Jephthah's sacrifice of his own daughter to fulfill the terms of a foolish vow (Judges 11:29-40) or Onan being put to death for refusing to impregnate his late brother's wife (Genesis 38:9). Parents who cover their children's eyes during Desperate Housewives, might be shocked to discover what lurid tales of betrayal, rape, incest, and adultery ­ all transpiring within traditional biblical families ­ lurk between the covers of their family Bible.

Not every biblical family relationship is as dysfunctional as these examples. But when biblical figures act virtuously, they often do so outside the bounds of "traditional family." The story of Ruth and Naomi is an account of same-sex devotion often read, ironically, during heterosexual marriage ceremonies (Ruth 1:16). David and Jonathan's relationship is presented with a tenderness lacking in most biblical marriages: David admits that his love for his friend "surpassed the love of women" (2 Samuel 1:26). In the Gospels, when Jesus is asked about his own family, he replies with an answer that was as radical for his day as it is now: "Whoever does the will of my Father in heaven is my brother and sister and mother" (Matthew 12:48-50).

The structures of biblical families are rooted in ancient cultural practices far removed from the sensibilities of Western society; the authors of the Bible would scarcely recognize the partnership of equals that marks a contemporary American marriage. But this doesn't mean we should abandon the Bible as a guide to family values. As the mutable institution of marriage evolves with shifting cultural norms, the Bible continually calls us back to what truly matters in human relationships. St. Paul wrote about these values, calling them the "fruit of the spirit": "love, joy, peace, patience, kindness, generosity, faithfulness, gentleness, and self-control" (Galatians 5:22). Surely these are biblical values every family would embrace. According to Paul, "love is patient; love is kind; love is not envious or boastful or arrogant or rude...It bears all things, believes all things, hopes all things, endures all things" (1 Corinthians 13:4-7). Even when knowledge and human institutions fail, these values, Paul says, remain constant: faith, hope and love. The greatest of these three, Paul concludes, is love (1 Corinthians 13:13).

Societal definitions of marriage and family will inevitably change over the course of history. It's clear that what is important in the Bible is not a family structure based on biology or even heterosexuality, but the quality of love exhibited in the relationships. And if same-sex couples exhibit such spiritual values, they deserve the legal protection and civil recognition of marriage. If we have any intention of preserving marriage or protecting families, we must base our support on values that are unchangeable: values such as faith, hope, and love. But the greatest among these ­ whether the couple is same-sex or heterosexual ­ is love.
###

The Rev. Jay Emerson Johnson, Ph.D., a member of the National Gay and Lesbian Task Force Religious Leadership Roundtable, is an Episcopal priest and the programming and development director for the Center for Lesbian and Gay Studies in Religion and Ministry at Pacific School of Religion in Berkeley, California.