Friday, June 18, 2004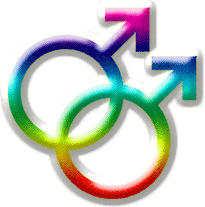 Labor contract includes benefits for same-sex partners
of state workers in Illinois
A story released today by the Associated Press reports that Illinois government would join 10 other states in offering health insurance to the same-sex partners of state employees under a tentative labor contract.
But the proposed benefit is stirring emotions among lawmakers and union members. Some believe it will be hard to police, while others claim it discriminates against straight couples who aren't married.
An activist on domestic-partner benefits said Friday that excluding the partners of heterosexuals violates the Illinois Human Rights Act, which prohibits employment discrimination based on marital status.
Gov. Rod Blagojevich and the American Federation of State, County and Municipal Employees announced last week that they had agreed on a new contract. Union members started voting on it this week.
Rep. Mike Bost, R-Murphysboro, objects to domestic-partner benefits on moral grounds and says it would be impossible to monitor.
"How can you verify that a couple is a homosexual couple in a same-sex relationship and justify a legal and legitimate partnership without the state recognizing same-sex marriage?" Bost said. "What justifies that it is a same-sex relationship like a marriage?"
Neither AFSCME nor Blagojevich's office will discuss specifics of the agreement.
According to a summary given to union members, health, dental and vision benefits would be the same for partners as for employees, starting in the third year of the four-year deal.
In many companies and government offices, employees with domestic partners must sign an affidavit attesting to the nature of the relationship, such as that the two have lived together for at least a year or have a joint bank account.
Four states - California, Connecticut, New Jersey and Washington - offer benefits to gay couples but not to unmarried straight couples, as the Illinois contract would do, according to the Human Rights Campaign Foundation, a 600,000 member gay and lesbian activist group in Washington, D.C.
Iowa, New Mexico, New York, Oregon, Rhode Island, and Vermont offer benefits to unmarried straight couples as well as gay couples.
Providing benefits is an issue of fairness to gays and lesbians who can't legally marry in Illinois, said Sen. Carol Ronen, D-Chicago. She's a sponsor of a measure to prohibit discrimination based on sexual orientation, which has failed in the General Assembly for years.
"Maybe this is just another example of how the state Legislature is so behind the curve," Ronen said. "Things seem to be moving forward in so many different arenas for the gay and lesbian community, except in the Illinois General Assembly. I think legislators are out of touch with their constituents."
But Thomas Coleman, executive director of Unmarried America, said excluding heterosexuals violates Illinois' prohibition on employment discrimination based on marital status.
"We're talking here not about general social policy. We're talking about employment compensation," said Coleman, who heads the California-based organization of 3,500 members.
However, he's unaware of any legal action against the city of Chicago or Cook County, both of which have offered benefits to gay couples but not unmarried straight couples since the late 1990s.
The University of Illinois recently adopted the same policy.